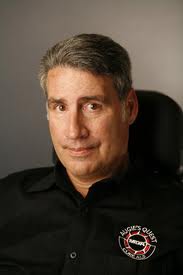 Augie Nieto is the founder and retired Chief Executive of Life Fitness and the Chairman of Octane Fitness. He and his wife Lynne live in Corona Del Mar, California and have four children. In September 2005, he received the fitness industry's top honor, the Lifetime Achievement Award. Augie is noted for fighting against ALS by creating "Augie's Quest". He started it by teaming with the Muscular Dystrophy Association after his diagnosis. "Augie's Quest" has raised over $30 million dollars in funds for research into the disease.
In March 2005, Augie was diagnosed with amyotrophic lateral sclerosis, more commonly known as Lou Gehrig's disease.
Despite the limitations of the disease, Augie continues to lead an active life. Therefore, drawing strength from his family, friends and a flood of supportive e-mails, Augie maintains a positive attitude. After diagnosis, he endured an initial bout of despair. He quickly rebounded though and teamed with the Muscular Dystrophy Association (MDA). And they created "Augie's Quest" with the sole purpose of finding a cure for ALS. The team he assembled to fight the disease and find a cure held to one mission: Identify the genetic basis of the disease in order to seek a treatment.
Tasks that able-bodied people take for granted, like using the bathroom, have to be geared to accommodate his physical constraints. "I could still feel the urge to go to the bathroom, but on many occasions I would not be able to make it to the bathroom." Leaning on family and friends for help was emotionally draining. "I would always have to have somebody take me to the bathroom. It could be a friend or my assistant, and I always felt as thought I was putting them in an uncomfortable situation."
Augie didn't use any incontinence management products, but he knew that the situation couldn't continue.
He would soon need some kind of continence aid, or going out in the world would someday end in an embarrassing accident. Finally, a nurse who works with ALS patients offered a solution: Men's Liberty, a completely external continence device. "I must admit, I was very hesitant to use it, as I did not want to encounter an embarrassing situation in public," said Nieto. But after trying Liberty, "I felt really comfortable and that the product worked." Since Liberty offers a 24-hour wear time and flexibility in its custom fit, staying dry is not something he has to worry about anymore. "Liberty has given me my freedom back," he asserts. "The product is great."
There is a choice. mensliberty.com
{{cta('cf5ae98c-65af-45b6-8221-4887b0683a57')}}
Wendy with Team Liberty