Can a Man Golf While Wearing a Catheter?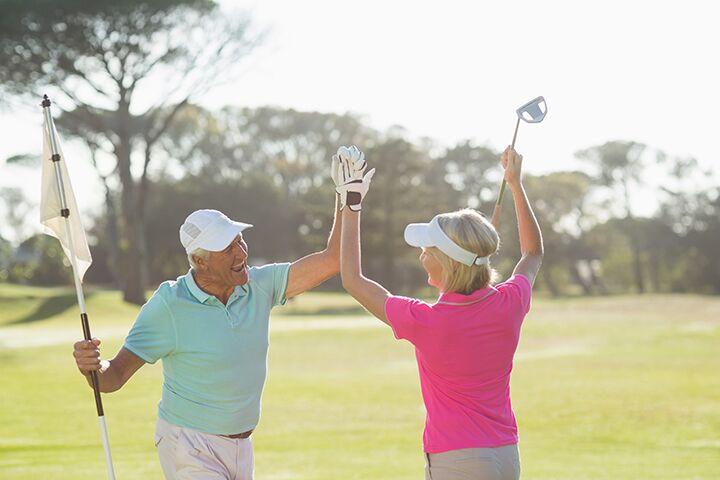 Can a man golf while wearing a catheter? Absolutely! Men's Liberty has designed an external catheter with your freedom in mind. Enjoy your usual activities with confidence, including golf, while wearing a catheter.
Freedom to do what you enjoy
Incontinence need not separate you from the people, places or activities you enjoy. Men's Liberty understands that you want to feel like yourself and get on with your life. That's why we've designed an easy to use external urine collection device that  providing up to 24-hours of protection. Keep your mind on the game, not on your bladder.
Get on with your life
Own your day again. Men's Liberty frees you from worry about accidents and panic about knowing where your next restroom break will be.  You'll travel lighter, too. Skip bulky incontinence products and emergency clean-up supplies. Men's Liberty features a collection unit that fits discreetly under your clothing. Simply empty as necessary. Watch the whole movie or get to the ninth hole feeling completely dry and odor-free.
Men's Liberty is easy to use
Men's Liberty is appropriate for all types of male anatomy. It's easy to use, too. Apply in about two minutes after your morning shower and enjoy protection you can count on all day long. Men's Liberty directs urine away from the skin and uses a skin friendly adhesive, so you are protected from rashes and irritation. Unlike other types of catheters and diapers, men using Men's Liberty have reported no UTIs.
Save money and your social life
Get back to the activities you love and keep more money in your pocket. Unlike adult diapers or incontinence pads, Men's Liberty is covered by most insurance plans. You may be able to get Men's Liberty with little or no out of pocket cost. Save as much as $300 each month out of pocket. Talk with your physician. If Men's Liberty is right for you a letter of medical necessity gets the fast process started.
Millions of men manage incontinence every day. If you are among them, know that you can still be the man you always have been. Men's Liberty offers an easy, worry-free option for work and play. Confidently travel, golf, dance, and more. We offer protection you can count on so you can keep your mind on the moment. Call us today to learn how Men's Liberty can help you get back in the game. No matter what you love to do, Men's Liberty gives you back the freedom to do it.