What can I use to manage my incontinence after leaving the hospital?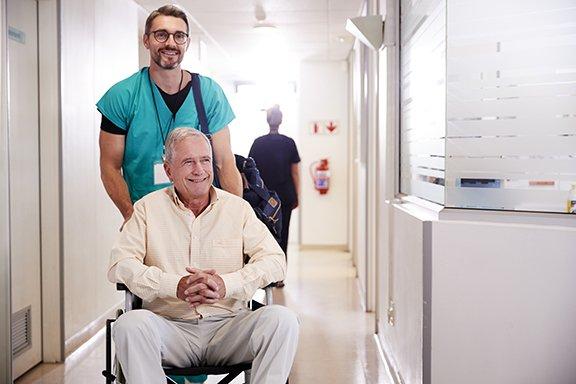 Incontinence after surgery and radiation is common and manageable. The problem is caused by changes in the bladder, sphincter, and valves involved with controlling the release of urine. Many men find that incontinence is resolved or improved within 6 to 12 months. These tips can help with incontinence management.
Be proactive
Perhaps the most important thing you can use to manage incontinence after leaving the hospital is your mind. Managing expectations will help you maintain a positive attitude that lets you move forward rather than put your life on hold. Talk with your doctor about steps you can take and use support such as Men's Liberty that gives you the confidence to return to your normal activities without undue stress.
What is Men's Liberty
Men's Liberty is a unique external catheter system. Our proprietary, skin-friendly design directs urine away from you and keeps you comfortable and dry for up to 24-hours. Men's Liberty is discreet, so you can feel confident at work or at play. You can even travel with confidence. Men's Liberty is invisible under your clothes and will not leak or pop-off. Enjoy a good night's sleep, date night or a game with the guys. Men's Liberty offers secure, safe protection you can always count on. Empty the collection unit at your convenience then get back to your life.
Absorbents
Some men may find that pads are a good option for light leaks. If you choose absorbents, practice good hygiene habits to protect your skin from rash and irritation. Use skin barriers as protection from moisture and change your pad as soon as it becomes wet.
Lifestyle changes
Many men find that incontinence is resolved or improved with time. You can make lifestyle changes that support better urinary control. Kegel exercises can improve pelvic floor function making it easier to hold urine. Once you identify the appropriate muscle, practice contracting it for ten reps up to three times daily. No one can tell when you are doing Kegel exercises, so you can do them anytime, anywhere. Certain dietary changes can also help with incontinence management. Keep a food journal making note of the amount and kind of liquids and food you had prior to accidents. You may find that citrus, caffeine and spicy foods increase the likelihood of leaks and accidents. Adjust accordingly. It can also help to lose weight, stop smoking and exercise regularly.
Stress management
Finally, manage your stress. Anxiety about having accidents can increase them. In addition to exercise, find a stress management plan that works for you. Enjoy up to 24-hours of secure protection provided by Men's Liberty and covered by more than 3,000 insurance plans. Ready to learn more? Give us a call.