Men's Liberty helped me get a Hole-In-One!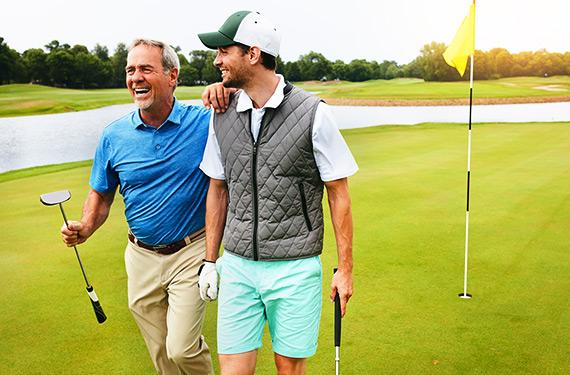 Here at the home office, we often hear stories from our clients about how Men's Liberty helped and has allowed them to live a more active, healthy lifestyle. The device enables them to leave the comfort of their homes and go out and enjoy life, often times competing in sporting events or spending time with their loved ones.
Well today I have one of those stories to share with all of you.
Many of our clients love to golf, Joe Vercellone happens to be one of those men. Joe has been a Men's Liberty user for a few months now and thanks to the Liberty he is able to go out and play golf without the hassle of absorbent pads or briefs.
Before I go any further with this story, I would like to extend a very sincere thank you to Joe because he has been kind enough to let me share this story with you all and he continues to remain in contact with us, providing us with valuable feedback. This is a great help to us and we welcome every one of our clients to do the same and be outspoken about your experiences with our product and staff.
On to the story…
Recently Joe was golfing with a few of his buddies at The Medal of Honor Course at Qauntico Marine Base in Virginia. They were playing the 14th hole, a challenging Par 3 at 127 yards from the senior tees. As he does on every tee shot, he used his trusty driver. With a mighty swing he connected cleanly and the ball headed straight to the pin. Unfortunately he lost sight of the ball half way to the hole because he suffers from macular degeneration.
However, he saw the ball land and it appeared it was headed straight to the hole. At first sight, the ball looked to have stopped just short of the hole. He blinked and tried to refocus. When he opened his eyes again the ball was gone. He turned to his partners and asked "what happened to the ball" and they said it fell in the hole. Joe replayed with "pretty good for a half blind guy". Then his buddies proceeded to call him a number of unkind names because neither of them has ever come close to making one.
The next day, Joe had a chance to reflect on the event. He thinks he has figured out how he made the shot.
By the time he reached the 14th hole his leg bag was so filled with urine. It began to weigh down his left leg. He contemplated emptying it but decided to wait another hole before doing so. He remembered the number of times he had been told to keep his left foot planted when making a shot. Joe jokes that he doesn't think he could have lifted his left leg or foot if he tried because of the amount of urine in the bag. As a result, his left leg and foot didn't move an inch as he swung and he can't think of any other reason for making such a magnificent shot. Joe says that if he can learn how to calculate his liquid intake and output so that his leg bag is full when he reaches a Par 3, there may be more Hole-in-One's to come.
Men's Liberty helped him. However…
Joe also is concerned that the PGA will soon get word that Men's Liberty clients are using unauthorized equipment. And will outlaw the Men's Liberty device for golfers much like they plan to outlaw the Belly Putter in 2015. Finally, Joe recommends that Men's Liberty establish a "Hole-In-One Honor Role" for its golfing clients.
Well Joe I will have to talk to management about that last idea. But I would like to congratulate you on your Hole-In-One, that is no easy feat. We are also very pleased to hear that Men's Liberty helped. And it played such an important role in completing this goal. Stories like this really illustrate just how big of difference our products can make in the lives of our patients. And we are thrilled at the thought that our products could help someone achieve a lifelong goal. We think that is pretty awesome.
As always, thanks for reading. And don't forget to share and if you have any questions or comments leave them in the comment section below.