Navigating the supplies choice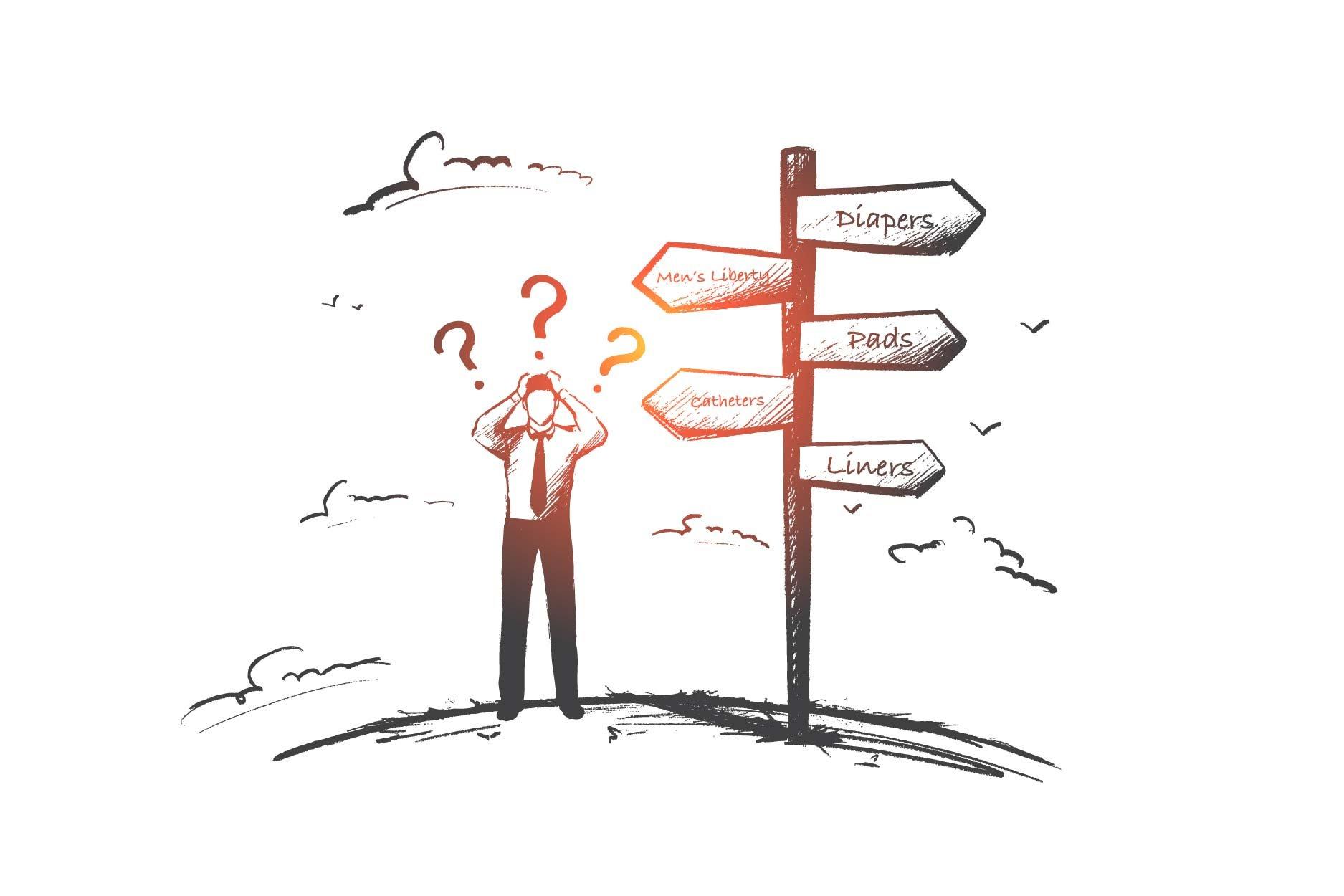 If you're managing incontinence, you likely know about the usual choices. These are absorbents like adult diapers, pads and liners. Catheters are also commonly used. Choices are most often guided by three major factors – cost, convenience and comfort. Men's Liberty has emerged as a leading choice for many men because it offers all these and more.
You didn't choose to have incontinence, but you can choose to manage it in a way that minimally disrupts your day or night. Our product was designed with your confidence and active lifestyle in mind.
You do have a choice
Here's why Men's Liberty may be right for you:
It provides up to 24-hours of worry free protection. Compare that with absorbent products, which must be monitored and changed throughout the day.
It provides a secure seal. That means you enjoy protection against leaks and accidents, even during sports. Compare that with absorbents, which can leak.
It uses a proprietary, skin-friendly design to protect your skin. There is also virtually no risk of UTI's, which are common with in-dwelling catheters. Men's Liberty has shipped more than 5 million units with no attributable adverse effect on users. Absorbent users are at significant risk of rashes including incontinence dermatitis (ID), a costly and uncomfortable symptom of exposure to too much moisture. Men's Liberty directs moisture away from the skin keeping you dry.
It is easy to apply for men who are physically able to do so. After just a couple of uses, most men can apply Men's Liberty in about two minutes. Unlike with in-dwelling catheters, you no doctor or healthcare professional is needed. Enjoy the convenience of management in the comfort of your own home.
It means more sleep, which supports better overall health. Skip the late-night bathroom trips by connecting Men's Liberty to a bed bag at night for extra capacity. Say goodbye to worries about accidents and cold, wet sheets. It will keep you dry day and night. That's a plus for caregivers, too.
It is covered by more than 3,000 insurance plans. Absorbent products are costly and not covered by insurance. With Men's Liberty you may have little or no out-of-pocket costs. That represents a savings of thousands of dollars.
Choose your freedom and independence
Men's Liberty takes you comfortably where absorbents can't. Therefore, work or play discreetly, no one will know you are using it. In fact, you no longer have to plan your day around worries about how near you are to a bathroom or if anyone notices an odor. Choose to manage incontinence with confidence. Choose Men's Liberty. Call us today to get started.