Even "The Greatest" Suffer from Incontinence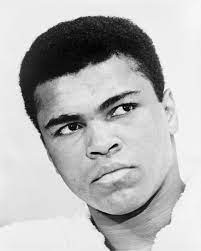 Many times during your individual journey in dealing with incontinence, you might feel like you're alone. Luckily, that isn't the case. Currently, there are over 25 million Americans who experience some form of incontinence. This condition is much more common than you would think. Every day, thousands of people are becoming aware of their incontinence and of the best methods to deal with it. Among these men there are many celebrities who have opened up about facing their urinary challenges to let others know that even "The Greatest" suffer from incontinence.
Even "The Greatest" Suffer from Incontinence
Muhammad Ali
Recently passing away, Muhammad Ali is widely considered the best pound for pound boxer of all time. Later in life, during his fight with Parkinson's disease, Ali suffered from incontinence. On his condition, Ali stated, "Now the things that once were so effortless – simple things like talking or controlling when I go – are more difficult. But I get up every day and try to live life to the fullest because each day is a gift from God."
Stephen King
Stephen King is famous for his prolific number of hit novels, which include popular titles such as The Stand, Carrie, and The Shining. King had a bladder cancer scare during which he developed frequent urination. When the issue first occurred, the author believed that it was going to be bladder cancer and that he was done for. He soon discovered that he had a simple urinary tract infection. Though his treatment was totally effective, King keeps incontinence collection products at his bedside, saying, "You never know when you're going to need these at my age."
Samuel L. Jackson
Famous for starring in several successful box-office hits, including Star Wars, Pulp Fiction, and The Avengers, Samuel L. Jackson developed a loss of bladder control in his late 40s. Initially he was embarrassed, but was soon after quoted saying, "I realized that this was a problem that millions of Americans deal with every day." The actor soon invested in incontinence collection devices, wearing them often while working on movie sets.
Tony Romo
As starting quarterback for the Dallas Cowboys, Tony Romo has been a Pro Bowl level talent who is much loved by the fans. While preparing for the 2009 NFL season, Romo developed a serious bladder infection. The infection resulted in the athlete being diagnosed with overactive bladder (OAB). To stay on the field, Romo wears incontinence collection devices during all practices.
Men's Liberty
Unfortunately, much like many of our customers, these celebrities have probably resorted to using unsanitary adult diapers or dangerous condom catheters. For ease of use and the freedom it provides, we of course suggest Men's Liberty as the healthy alternative. BioDerm provides an excellent training program for application and use of the product. Another benefit is that Medicare helps pay for the Men's Liberty external catheters; Medicare does not pay for diapers or absorbents that you purchase from your local drugstore.
Call our care team today at 1 800 814 3174. They are here to help you.