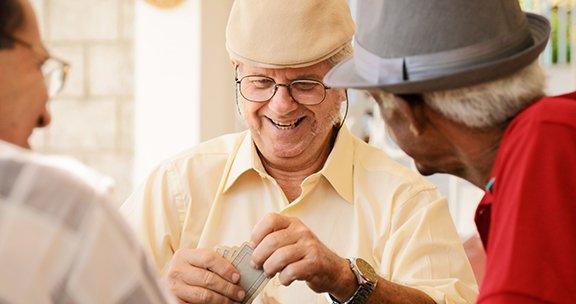 Weathering Incontinence
Is it possible to be spontaneous, feel sexy and excel in your sport with incontinence? Absolutely. The secret is confidence. Get protection you can count on, so you feel like yourself with Men's Liberty. Keep your focus off your bladder and on the things you love. Weathering incontinence is easier when it isn't always on your mind.
Get a game plan
Many men experience feelings of depression, anger, frustration and shame after a diagnosis of incontinence. All these feelings are normal. You can more successfully weather incontinence if you are able to adopt balanced thinking. For example, frustration with the diagnosis is present alongside determination to find a workable solution that fits your lifestyle. Men's Liberty is a workable solution millions of men count on every day to help them maintain active lifestyles with confidence.
Be you
In the beginning managing incontinence can feel like life won't be the same or you won't be your old self anymore. Preoccupation with worry about accidents, odor or bulky absorbents can be overwhelming. Settle quickly on a game plan that gets you back on your game. Men's Liberty offers up to 24-hours of leak free protection. Confidently dance, dine, golf, travel and work. Incontinence is not an identity; it is a manageable medical condition. Be the man you always were with our secure, discreet system.
Embrace your active lifestyle
Weather incontinence by choosing solution focused thinking. Start by remembering you aren't alone. Millions of men, including actor Samuel L. Jackson, football player Tony Romo and author Stephen King, have managed incontinence. You can too. Incontinence is more common than you think. Likewise, going about your usual business is easier than you think. Especially with Men's Liberty.
Men's Liberty can help
Men's Liberty was designed with your comfort and freedom in mind. Our skin-friendly external collection system keeps you dry all day and all night. Men's Liberty is convenient and discreet too. No one will know you are using it. Empty Men's Liberty when needed and get back to doing life. Men's Liberty is also easy on your budget. We accept more than 3,000 types of insurance including Medicare and Tricare. Depending on your plan you may qualify for Men's Liberty at little or no out of pocket cost. Did you feel sexy, spontaneous or good at sports before your diagnosis? You can feel like you again, even with incontinence. The key is a game plan that gives you confidence. Millions of men enjoy secure protection and active lifestyles with Men's Liberty. Call today to learn if Men's Liberty can make the difference for you too.