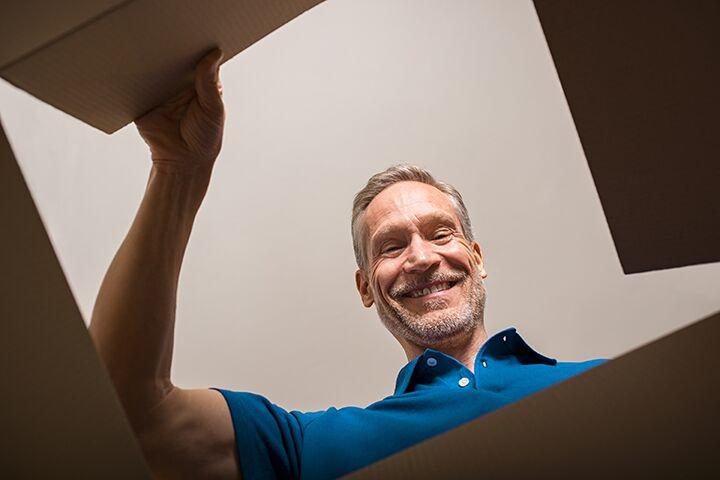 Who makes your catheter?
Catheters are made by a variety of manufacturers in the United States and around the globe using medical grade materials. Although there are standards designed to minimize risk to users, some types of catheters made oversees under different regulation come with more risks than others. Men's Liberty is manufactured in the United States in a clean room environment to help eliminate risk of infection or contamination. Men's Liberty makes catheters you can count.
We make Men's Liberty with your safety in mind
Incontinence is not a new problem, but Men's Liberty has been working on new and better ways to manage it since 1991. Our catheter design is based on years of research, conversations with men and healthcare professionals. The result is not only safe – Men's Liberty has no attributable adverse events including attributable male UTIs for the 5 million units sold to date.
A life-changing option
Men want to feel like themselves, active, vital and confident, even with incontinence. Men's Liberty understands that. That's why we designed a hydrocolloid-based external continence device that is skin-friendly and secure. Apply Men's Liberty easily and wear up to 24-hours without worrying about staying dry or bad odor. Men's Liberty gives you back the freedom to do what you enjoy. Be in the moment instead of preoccupied about how quickly you can make it to the nearest bathroom.
Men's Liberty is reliable and affordable
Designing a product men could rely on was only one part of our overall goal. Men's Liberty also set out to make a catheter with your dignity as well as your budget in mind. Men's Liberty represents significant savings over both indwelling catheters and absorbents. We launched a direct to consumer campaign in 2011 with cost savings in mind. You'll also save on healthcare costs. Indwelling catheter use is strongly correlated with increasing rates of UTI and other infections. Such infections lead to more medical care and expense. Absorbents hold moisture and often cause painful rashes and sores. What's more they're expensive.
Men's Liberty is covered by more than 3,000 insurance providers including VA/Tricare and Medicare. Depending on your plan, you may qualify for Men's Liberty for little or no out of pocket cost. Your standard deductibles and co-pays will apply, but the Men's Liberty team will handle the paperwork with your insurance and contacting your doctor for approval.
Men's Liberty has been working on ways to help men manage incontinence for almost two decades. Our goal is to help men regain their masculine vitality and confidence. Men's Liberty is appropriate for all types of anatomy and it is discreet. Men's Liberty has helped men dealing with geriatric incontinence, prostate cancer, enlarged prostate, ALS, spinal cord injury and other types of incomitance. Only you will know you're wearing it. Men's Liberty is made with your active lifestyle in mind. Give us a call today to learn how you can get started.
What is going into my body?
Indwelling catheters are strongly linked with infections such as male UTI. In fact, such infections are a significant cause of extended hospitalizations, medical care and expense. Men's Liberty has a better solution.
What is a safer alternative for Men to a diaper and Catheter?
Men's Liberty has designed an external continence device that keeps you dry and accident free for 24-hours. Our system is different. Unlike indwelling catheters, Men's Liberty requires no insertion. Unlike condom catheters, Men's Liberty is not applied to the entire anatomy. We use a unique, skin-friendly adhesive for a secure seal at the tip of the anatomy. You don't have to worry about poor fit or sores as with condom catheters. No worries about UTI as with indwelling catheters either.
Easy to use
Men's Liberty is easy to apply. Most men can do it in about two minutes after they get the hang of it. No need for a doctor or hospital visit. Apply Men's Liberty in the privacy and comfort of your own home. Apply just once daily and go about your regular activities. Men's Liberty has got you covered.
What is an alternative to indwelling catheters?
Many men are reluctant to use an indwelling catheter. They feel stuck with diapers or absorbent pads because they don't want to have to deal with the pain of catheter insertion or risk of infection. Men's Liberty offers a real choice. No more embarrassing and uncomfortable diapers. Our external collection device is discreet and pain free. More men around the world have chosen Men's Liberty because they want the freedom to do everything including travel, work and play with confidence.
What are my options for handling male incontinence?
Men's Liberty offers a real choice. Why risk infection or worry about leaks? You can feel confident in your protection without the dangers that come with indwelling catheters or absorbents. You don't have to settle. Choose Men's Liberty for convenient, dependable protection. Our design is based on years of research and feedback from real men about what really works. For example, Men's Liberty is easy to empty discreetly in a public bathroom. It provides long-wear time, so you don't have to go through multiple daily changes; and fits discreetly under your clothing – even shorts.
When you choose Men's Liberty you don't have to worry about what is going inside your body. We offer protection you can trust without painful insertions or risk of infection. Call us today to learn more.
Why do I need help peeing?
Consult your healthcare provider if you are having a hard time peeing. An enlarged prostate may be the problem
What is an enlarged prostate?
Enlarged prostate, also known as benign prostatic hyperplasia or BPH), happens when the prostate grows larger with age. BPH is common among men over 60. The exact cause is unknown.
Where is the prostate?
The prostate is located near the bladder and the rectum. It is about the size of a walnut. Because of its proximity to the bladder, problems with the prostate can impact ability to control your pee. You may begin to experience some symptoms of incontinence such as leaks or accidents following a sudden urge to pee. You may also notice that it is difficult to empty your bladder.
Why is it hard to empty my bladder?
Enlarged prostate can make it difficult to start the flow of urine. Once the flow starts your stream may be weak or simply dribble out. It may also be difficult to fully empty your bladder. The problem is pressure on your urethra, which makes it hard for urine to pass freely. In some cases, the prostate may grow so large that urine cannot pass at all. Go to the emergency room.  BPH, weak bladder muscles or bladder infection can stop your ability to urinate and require immediate medical attention.
Other causes
Difficulty peeing can also be caused by certain medications or scar tissue from surgery. Sometimes the problem is constant and sometimes it is intermittent. Meaning sometimes you can pee, just not always when you plan to. For those times, there's Men's Liberty. We've designed a safe, dependable, discreet option for men managing incontinence.
Stay active
Men's Liberty makes it easy to keep up with your active lifestyle. In fact, with up to 24-hours of wear time and virtually no risk of infection, you can apply Men's Liberty and get on with your life. No more hassles around mapping bathrooms or constant changing. Stay dry 24/7 and only change it once a day. You can use Men's Liberty with confidence. Get started today