Thanks for the job, now where's the restroom?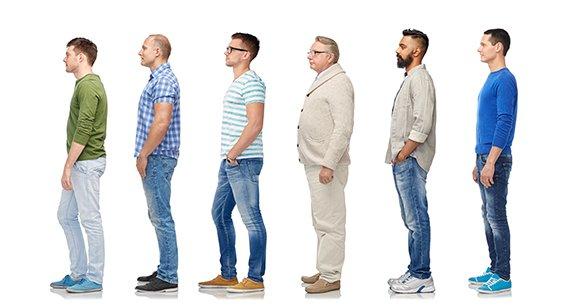 Starting a new job is exciting and a bit stressful. It's your time to show off your experience and skills. The last thing you want is to worry about leakage or accidents. Working with incontinence can feel frightening, but don't worry, Men's Liberty will be with you every step of the way. On your feet or behind a desk, Men's Liberty provides protection you can count on.
Plan ahead
When you are new to Men's Liberty you will need to allow three to four days for skin moisture levels to adjust and average wear time to improve from 6-12 hours to up to 24-48 hours. After that time, you can expect to spend about two minutes applying Men's Liberty. One Men's Liberty stays securely in place for up to 24 to 48 hours. Breeze through onboarding paperwork without worrying about where you'll find the restroom. You'll stay dry with our easy to use system.
Enjoy your morning coffee
If a cup of joe sharpens your performance, go for it. No need to skip your morning pick me up. Men's Liberty features a collection unit that is easy to empty discreetly. Protect your privacy without sacrificing comfort or peace of mind.
Stay in the zone
Don't let worries about incontinence interrupt your stride. Men's Liberty makes it easy for you to stay focused and feel productive. You'll work better without fear of embarrassing accidents or constantly calculating how quickly you can get to the bathroom in the middle of a meeting.
Be confident
Stay on top of your game when your bladder is off your mind. Men's Liberty helps you feel confident in even the most fast-paced work environment. Lead the team, share your ideas or demonstrate a product. No one will know you're using Men's Liberty. All they'll see is confident, competent you.
Join the company team
Comfortably golf, play tennis run, bike and more with Men's Liberty. Men's Liberty gives you the freedom to enjoy your usual activities. No need to sit on the sidelines. Men's Liberty lets you show off your sports skills.
Welcome to the team
Many men experience shame and frustration when diagnosed with incontinence. Men's Liberty is designed to help them look beyond the diagnosis. When you're confident in your protection you are better able to go after that new job, reach new goals and do your best work. We know you want to focus on your skills, not your bladder. Show them why they hired you. Working with incontinence without worry or fear of accidents is possible. Men's Liberty lets you perform with confidence. Give us a call to get started today.