7 Reasons Why Men's Liberty Might Be A Fit for You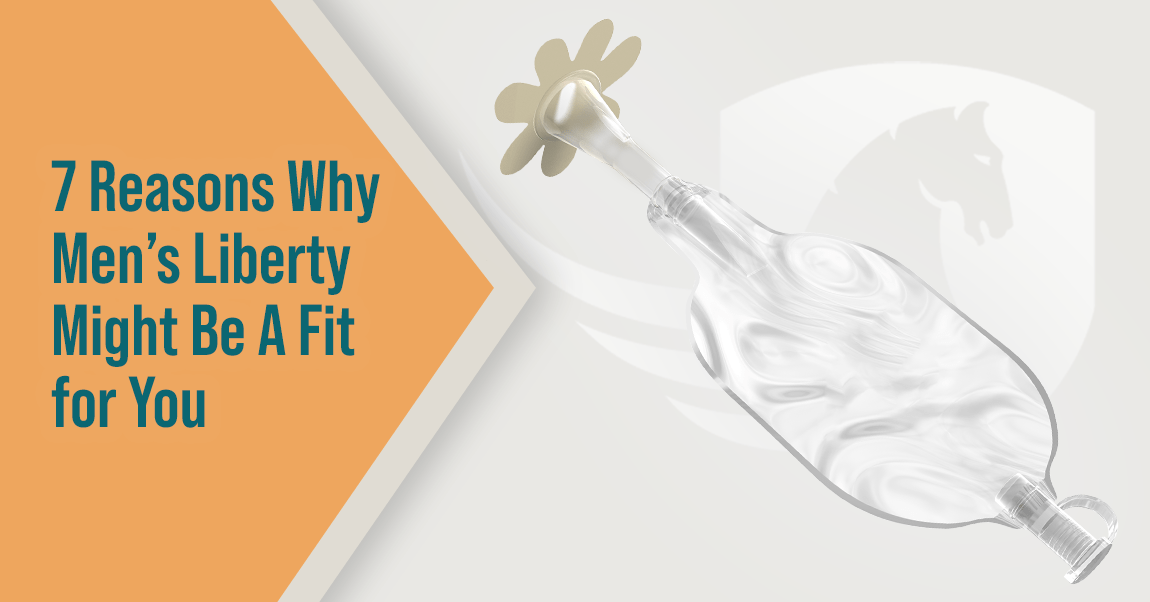 Men's Liberty is the first truly innovative device for men's urinary incontinence that keeps men dry 24/7. It features a completely external design, a skin friendly hydrocolloid adhesive and a secure seal for 24+ hours. Men's Liberty is the discreet, dignified and dependable option for managing urinary incontinence. Here are the reasons why Men's Liberty might be a fit for you:
Men's Liberty is skin friendly
Men's Liberty is not made with natural rubber latex. It is made of a gentle, skin friendly material called hydrocolloid, a proprietary adhesive that softly stretches and moves with a man as he changes position.
Stay dry design
Unlike diapers that can cause diaper rash, yeast infections, and dermatitis, Men's Liberty attaches to the tip of a man's anatomy, directing urine to a discreet collection pouch.
Minimizes leaks and odor
You often associate absorbent products with an embarrassing odor that lingers because of the urine collected in the crotch. The Men's Liberty product directs urine to a discreet pouch that minimizes the odor until you get a chance to empty it.
Use one a day
Men's Liberty is a unique design that uses hydrocolloid adhesive that will adhere for up to 24 hours- allowing men to regain their confidence and reduce their dependency on changing their incontinence products several times a day.
Dependable
With over 5 million units sold, Men's Liberty is a brand you can trust.
Works for most men
Men's Liberty is a solution that will work for most men. Because of the unique petal design, Men's Liberty can adhere to most widths. It can also attach to retracted anatomy and uncircumcised anatomy.
Reduces out-of-pocket costs
Men's Liberty is considered under durable medical equipment (DME) and is covered  by most insurance policies.  Insurance will only cover your Men's Liberty supply once your doctor has completed a Letter of Medical Necessity or LMN form. The LMN is easy to obtain. You can find it included in this letter or on the Men's Liberty website. Your doctor will have to complete the form. You can also call the Men's Liberty Team. They will send the LMN to your doctor's office on your behalf and follow-up until the paperwork is complete.
Whichever option you choose, the doctor will send the completed LMN form back to the Men's Liberty Team. At this point, the team will verify your insurance and set you up with a distributor. The distributor will call you to finalize the order. Your supply will then ship discreetly to your home. You will never have to worry about trips to the store or running out of your supplies again. Men's liberty might be a fit for you.
If you would like to give Men's Liberty a try- give us a call. Men's Liberty is discreet and directs urine away from the skin keeping men comfortable and dry for up to 24 hours. Best of all, many insurance policies cover your supply. Call 800-814-3174 to talk to a customer care agent today. They can explain the product and talk to your doctor to help you regain your control.