TAKE BACK YOUR FREEDOM & CONFIDENCE WITH MEN'S LIBERTY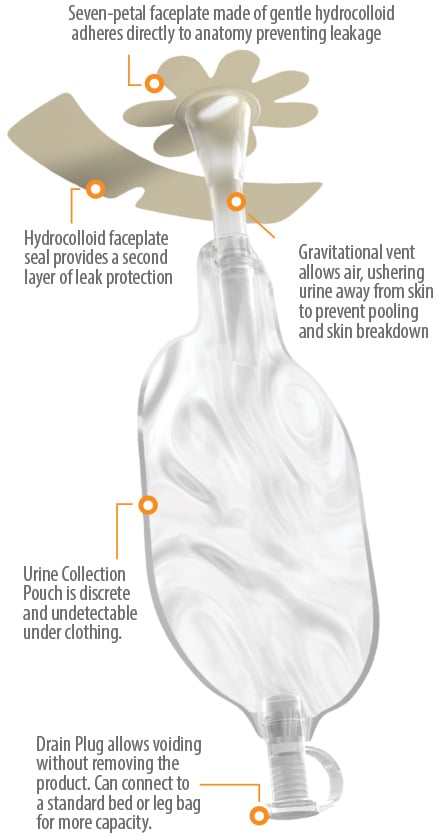 Men's Liberty™ is the innovative alternative to traditional male external catheters. The Men's Liberty external catheter is applied just once a day.
This discreet, one-size-fits-most option manages men's urinary incontinence in a safe way that keeps you dry 24/7.
More than 5 million Men's Liberty products have been used. But what is Men's Liberty? These male urinary incontinence products are
precision-engineered to protect you from leaks and reduce the risk of urinary tract infections (UTIs).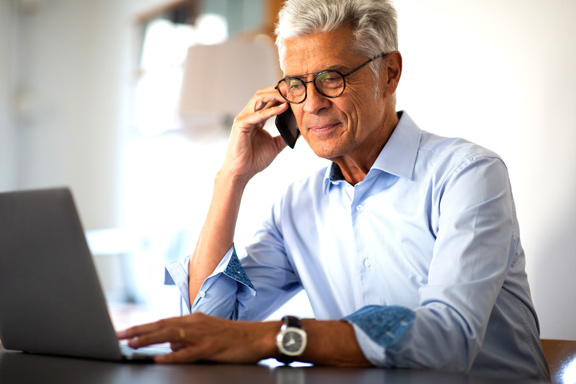 QUESTIONS BEFORE YOU GET STARTED?
Our knowledgeable staff is available to answer any questions that you may have about Men's Liberty external male catheters by BioDerm.
Call a live representative — available 24/7 — or check out our FAQ page for more information:
Our Customers Are the Proof

"After many complications with prostate surgery, I was left with complete incontinence. Every day was miserable and I did not want to go anywhere. After my doctor offered the Liberty external catheter, life has been much better. I can now drink what I want and lead a more normal life."
- Phil C.

"This weekend I'm marking my 82nd birthday and I wanted you to know how important you and Men's Liberty have been to me. Going to work, field trips, meetings, long trips, advent having, skiing, riding, etc., etc., are all possible because of the confidence that Men's Liberty give me. My life would be so much different without it … When I think about where I am right now, I owe a lot to you. Thank you!"
- Geoff

"The product works exactly as advertised; all billing and prescription information was arranged by BioDerm … I could not be happier with the product and will never go back to pads and clamps."
- Alan P.
Our proprietary external catheter system is a solution to incontinence but without the headaches of other popular devices, such as condom catheters. It's designed to keep urine away from the skin, reducing the risk of UTIs — a familiar occurrence to those who've used other products. You can buy our external catheter directly or get our starter bundle through your health insurance. For those already using Men's Liberty catheters, we also sell our FreeDerm adhesive remover, which is used to quickly and painlessly change your Men's Liberty adhesive seal, as a stand-alone product.
Men's Liberty is the innovative alternative to traditional male external catheters.
Men's Liberty is the innovative alternative to traditional male external catheters.
MONEY BACK IN YOUR POCKET
Adult diapers can cost up to $200 a month when used regularly. Men's Liberty is the affordable solution that is covered by Medicare and over 3,000 insurance plans, so you'll pay little to no out-of-pocket cost. Standard deductibles and co-pays apply.
We take care of contacting your doctor and the paperwork involved for your insurance. If you're ready to save thousands of dollars a year, get out your insurance card and give us a call today to take back your confidence by using Men's Liberty for your incontinence needs. 
LEARN ABOUT URINARY INCONTINENCE IN MEN
Urinary incontinence can be devastating to live with. Traditional male urinary incontinence products are invasive, increase the risk of UTIs, and can be awkward to use. The risk factors, causes, types, and solutions for incontinence vary wildly.
Get the full story on incontinence with the Men's Liberty incontinence 101 guide.
THE LATEST FROM MEN'S LIBERTY
Learn more about male incontinence and the Men's Liberty external catheter empowering you to live a dignified life. Regain your pride and learn how to make the most of the Men's Liberty starter bundle. Keep checking back for the latest articles and guides from the Men's Liberty team.