Men's Liberty Starter Bundle
The Men's Liberty Starter Bundle Contains:
7 – Men's Liberty units
1 – FreeDerm Adhesive Remover- 1 oz pump
1 – Bedside Drain Bag, 2000 ml
Start your journey to reclaiming your freedom with the Men's Liberty starter bundle. Give our male external catheter kit a test drive and find out why so many men have turned to the Men's Liberty male external catheter with a bag for relief from their struggle with incontinence.
The Men's Liberty starter kit comes with seven Men's Liberty catheters, BioPlus catheter prep wipes, a bottle of FreeDerm adhesive removal spray, and a bedside bag for all-night protection. Unlike a condom catheter bag, Men's Liberty directs urine away from the skin to reduce the incidence of urinary tract and skin infections.
You can pay out of pocket, which gives you the chance to try the Men's Liberty sample bundle before contacting your insurance company or going through your insurance at the start. Either way, it's the best way to save yourself from the fear and isolation of living with untreated male incontinence.
You can also fully customize your order; add as many male external catheter systems as you like. Regardless of how long you want to try out Men's Liberty, our starter bundle can support it.
When it comes to no-obligation male external catheter samples, Men's Liberty is the only choice.
Men's Liberty is covered by Insurance.
Description
Benefits
Our male external catheter kit could not be simpler to pop on and off. It takes just minutes to enjoy a full day of living. Simply apply it and secure the leg bag to enjoy 24 hours of freedom.
There are no diapers, no painful internal catheters, and no risky condom catheter with a bag.
Make odors, drips, and leakage a thing of the past.
Some of the benefits of trying out our Men's Liberty starter bundle include:
No Appointment Needed

– You never need a prescription to purchase Men's Liberty. If you have male incontinence and need a solution, you can get started now.

Quick Ship – Get your order in just a few days from the moment you order. Our customer service team will be available to you should you have any questions or concerns.
Try First

– Before you contact your insurance company, you can try our innovative solution for male incontinence. But we promise this is the solution you have been looking for.

Covered by Insurance

— Once you decide to stick with Men's Liberty, you can contact your insurance company about coverage options to help reduce out-of-pocket costs.

No Paperwork

– Prefer to pay out-of-pocket? Then there is no paperwork required. Place your order and wait for your male external catheter kit to arrive at your door.
The Men's Liberty difference enables you to reclaim your confidence and make the most of every day. Use the buttons above or contact our team directly to get started today.
How to Use Our Male External Catheter Kit
Standard condom catheter kits can be frustrating and awkward to use. If you opt for the traditional internal catheter, you will experience discomfort. The Men's Liberty external catheter is different.
Follow these simple steps to attach and detach your catheter in minutes. Our starter bundle comes with everything you need.
Step One

– Prepare by pulling back the foreskin of your penis. Wash the penis head with a non-moisturizing soap like Gold Dial or Ivory. Dry the head of the penis with a towel.

Step Two

– Apply a BioPlus wipe and wait up to one minute for the area to dry.

Step Three

– Position the catheter with the flower — the end of the catheter that attaches to the penis — facing up. The urinary opening should fit directly into the center of the flower. Remove the petals' release paper and attach the faceplate to the penis tip. At all times, keep the catheter's opening in line with the penis's opening. Smooth down the petals.

Step Four

– Position the faceplate seal under the tip of the penis. Remove the adhesive backing and wrap the seal. Hold for 10–15 seconds to remove air pockets and ensure a secure fit.

Step Five

– Remove the catheter with the FreeDerm adhesive removal. Spray on the edge of the adhesive and lift gently when the adhesive becomes milky white.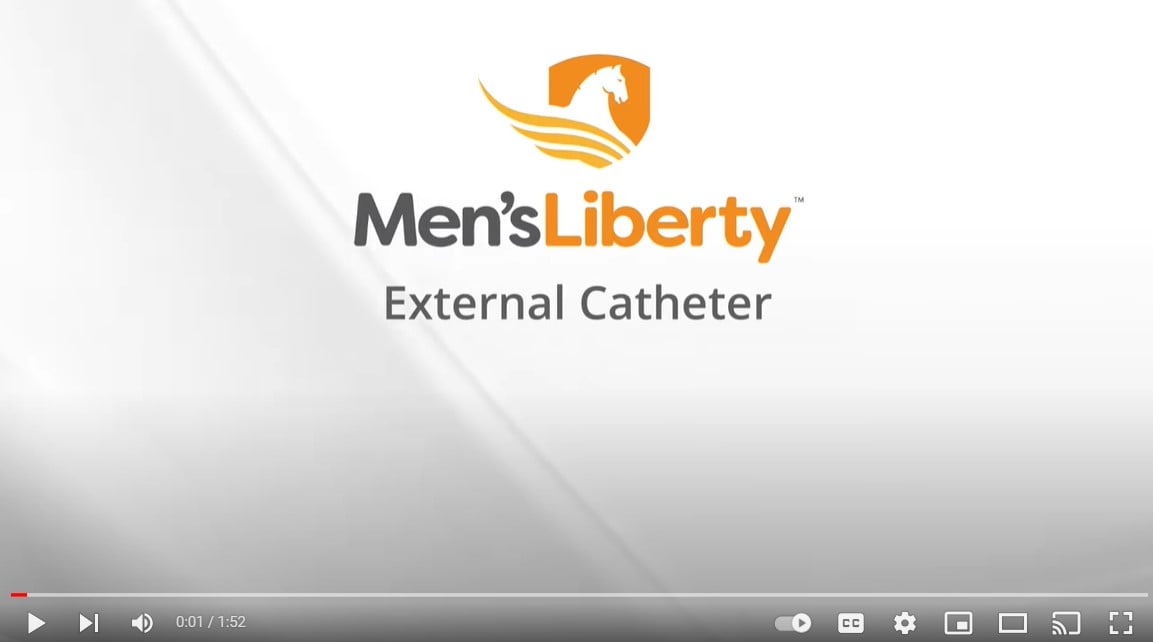 FAQs
Here are the answers to the most common questions people have about wearing male catheters for the first time. Check out our complete Men's Liberty FAQs page for more information.
Do I need to fill out any paperwork?
If you are paying cash, no. All you have to do is place your order, and we will submit your order. No paperwork is required.
How long can I wear Men's Liberty?
Each Men's Liberty catheter has been manufactured to last for 24 hours — whether you're using it with a leg bag or a bedside bag. Make sure you follow the attached instructions to the letter to get maximum wear from your external catheter.
How often should I empty my Men's Liberty bag?
Each eight-ounce bag should be emptied when it is two-thirds full to prevent any backup and leakage. If you need extra capacity, we also offer a 1,100 ML leg bag.
Get Started With Men's Liberty
Additional information
| | |
| --- | --- |
| Weight | 32 oz |
| Dimensions | 10 × 10 × 10 in |