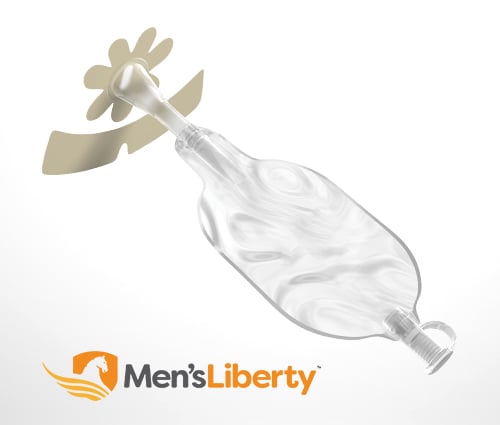 Men's Liberty units only (FreeDerm Adhesive Spray sold separately)
The minimum order is 7 units.
Description
Men's Liberty is a discreet, external male urinary collection device designed to manage urinary incontinence effectively. Unlike traditional incontinence products such as pads or other catheters, Men's Liberty offers a revolutionary approach that allows men to reclaim their independence and engage in their daily activities without worry or discomfort.
The Men's Liberty difference enables you to reclaim your confidence and make the most of every day. Use the buttons above or contact our team directly to get started today.
External design
Fits most male anatomy
Keeps men dry & comfortable
The average wear time of up to 24 hours per unit
8 oz. urine collection pouch empties easily
Replaces diapers, condom catheters, and medically unnecessary Foley catheters
Connects directly to a leg or bed bag for extended or overnight use
How to Use Our Male External Catheter
Standard condom catheter kits can be frustrating and awkward to use. If you opt for the traditional internal catheter, you will experience discomfort. The Men's Liberty external catheter is different.
Follow these simple steps to attach and detach your catheter in minutes. Our starter bundle comes with everything you need.
Step One – Prepare by pulling back the foreskin of your penis. Wash the penis head with a non-moisturizing soap like Gold Dial or Ivory. Dry the head of the penis with a towel.
Step Two – Apply a BioPlus wipe and wait up to one minute for the area to dry.
Step Three – Position the catheter with the flower — the end of the catheter that attaches to the penis — facing up. The urinary opening should fit directly into the center of the flower. Remove the petals' release paper and attach the faceplate to the penis tip. At all times, keep the catheter's opening in line with the penis's opening. Smooth down the petals.
Step Four – Position the faceplate seal under the tip of the penis. Remove the adhesive backing and wrap the seal. Hold for 10–15 seconds to remove air pockets and ensure a secure fit.
Step Five – Remove the catheter with the FreeDerm adhesive removal. Spray on the edge of the adhesive and lift gently when the adhesive becomes milky white.
FAQs
Here are the answers to the most common questions people have about wearing male catheters for the first time. Check out our complete Men's Liberty FAQs page for more information.
How long can I wear Men's Liberty?
Each Men's Liberty catheter has been manufactured to last for 24 hours — whether you're using it with a leg bag or a bedside bag. Make sure you follow the attached instructions to the letter to get maximum wear from your external catheter.