What is the Learning Curve?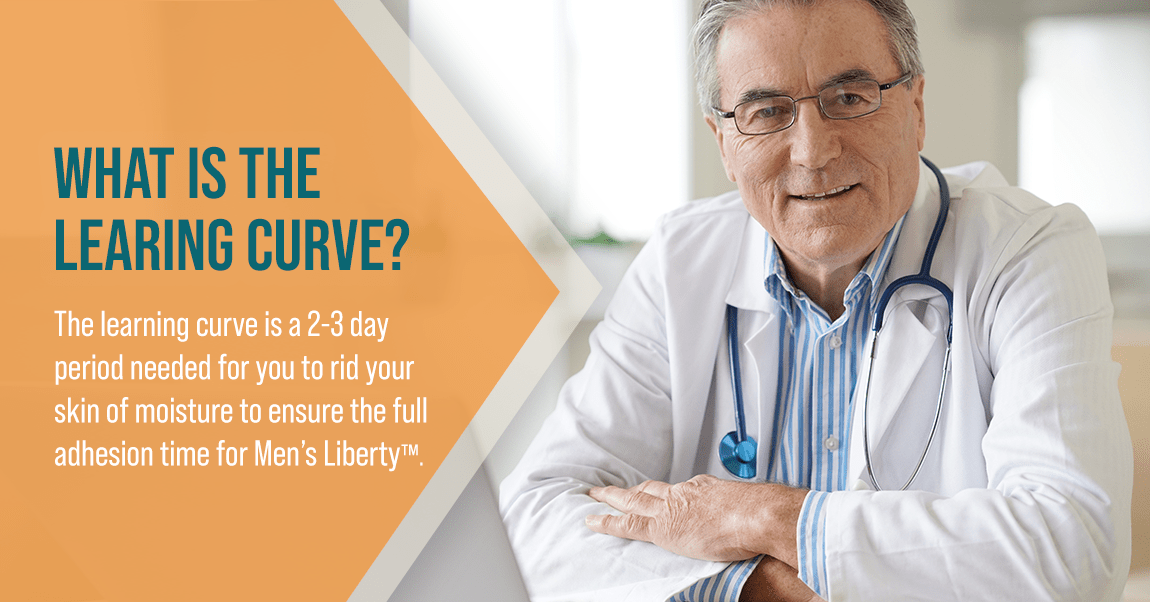 Simply put – the learning curve is a 2-3 day period needed for you to rid your skin of moisture to ensure the full adhesion time for Men's Liberty. Your skin holds in moisture, naturally. In addition to the natural moisture content of your skin, the soap lotion or oils that you use daily can add more moisture to your skin. Men's Liberty uses a proprietary adhesive called Hydrocolloid. A moist environment will lessen the adhesive qualities of the Hydrocolloid. During the first few days of wear-time, you may not have a full 24-hour wear-time from the Men's Liberty due to the moisture content of your skin.
How can you prepare for the learning curve?
While you wait for your Men's Liberty supply to arrive, you should wash your anatomy with a non-moisturizing soap. This will help prep the skin for the Hydrocolloid adhesive.
What to expect during the first few days?
As mentioned, the Men's Liberty may not stick for the full 24 hours. If the unit falls off, it is important to reapply immediately. Continually usage will ensure the moisture content will level out and Men's Liberty will still for the full wear time. During the first few days, you may want to remain at home, just to ensure you won't experience an accident. Once you ensure Men's Liberty is staying on for the full 24 hours- you are free to resume life as normal.
Men's Liberty and Diapers
You should never wear a diaper or pad with the Men's Liberty product, as this will introduce moisture. You should not alternate between diapers and Men's Liberty, as this too will create an imbalance with the moisture of your skin. It is important to not feel frustrated during the learning curve. The Men's Liberty Team is available to help answer any questions that you may have. Feel free to give them a call at 800-814-3174 with any questions or concerns.